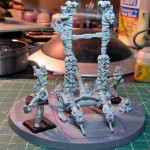 Remember that 'building Jones' I mentioned? Here's one of the results.
I picked up a pair of these this year during my lull along with some Tomb Guard. I slapped this together right after grinding the horse out of the Mournghul's claws. I 'm trying out a round mounting base with some recessed slots for the crew.
I'll paint this when I've finished the other unit that came out of that building session.
More to come.
Shawn G. (SoI)