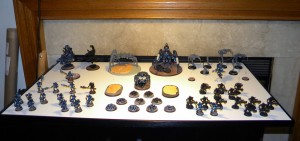 Ok, so I've pinned down (for the most part) what I intend to bring to NOVA 2012. I fully intended to go last year, but a combination of laziness and Hurricane Irene kept me from going. This year however I'm going come Hell or high water!
I've been juggling around whether or not to bring the Space Chicken (C'tan) but at the moment I'm going to leave him home. This may change however as I'm just not feeling driven to paint my wraiths (more on that later).
Here's my preliminary NOVA 'Crons:
Overlord w/ Command Barge
4 Crypteks
2 Triarch Stalkers
25 Tesla Immortals
9 Canoptek Scarabs
5 Tomb Blades
6 Canoptek Wraiths
2 Annialation Barges
3 Canoptek Spiders
Not to bad eh? The list has lots of variety that shows off the character of the model range.
What's Painted:
Overlord
3 Crypteks
1 Triarch Stalkers
12 Tesla Immortals (5 man squads)
5 Canoptek Scarabs
1 Tomb Blades
1 Annialation Barges
1 Canoptek Spiders
Still quite a bit to do. My first task will be to knock out all of the infantry as they are the most numerous. I'll be focusing on the immortals and scarabs until they are done. On the topic of scarabs, I'll likely be painting the remaining 19 to cover spider spawns.
More to come as I progress
Shawn G. (SoI)