I had a build-a-thon with some friends this weekend and here's what I made: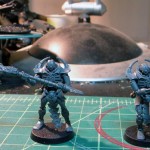 I'm really fond of this Cryptek design, I can't wait to see them painted.
I also hammered out a new Overlord to replace the resin one that broke. I like this style even more then the first. While I enjoy painting Res Orbs, the concept of physically carrying them around on the battlefield did not work for me. I spotted this design on CMoN (Cool Mini or Not) last week and had to steal it. A wrist mounted Res Orb, made from a whittled down voidblade, is much more functional for swinging around a Warscythe.
I'm going to start on the Stalker this week. Shouldn't be hard to finish.
Shawn G. (SoI)