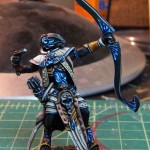 This mini kind of painted itself. I wanted to see if my Thokt paint scheme would work on a different type of model and I was surprised at how well it turned out!
This beauty will represent a C'Tan in my Necron army if I can get it off the ground. I don't mind the old Deceiver/Nightbringer minis, but I wanted to try something new and with all the new Tomb King's kit's I have knocking about, I thought I should give one a try.
He's not quite perfect to represent Thoth (no ibis head), but he's close enough!