So I was digging around on Dakka Dakka last Thursday, when I came across a thread in the News & Rumors section talking about a big sale for Vallejo paints being sold on ebay. I jumped at the chance and snached one lot up and holy crap did I make out good!
5 Vallejo 6 pot packs and 5 Vallejo 16 pot packs. $330 in Vallejo paint for $65 shipped.
I'll never buy another GW paint!
Now I have to build two more shelves to house them…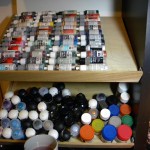 Shawn G. (SoI)