Now that my disk/bases are done I've started to put them to use. The bases will get their debut here in a few days. My first (and easiest) project will be a new Herald of Tzeentch on a disk. I'm also designing some modularization into this project to allow me to transfer the disk/rider to a large base to serve as a chariot.
I sat down this weekend and hammered out a paint scheme for these resin disks of mine. I think it will take a few more attempts before I have something satisfactory but this design looks solid.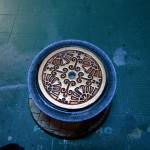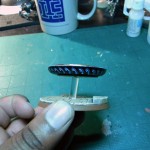 After painting, I mounted the disk on a Dragon Forge base I had waiting. 60mm Sanctuary in case you are wondering. Prior to painting a drilled/Dremel'd a two holes in the top and bottom to accommodate magnets for the rider and base. Unfortunately my dremel'ing was not level so the magnet set at a slight angle. It looks cool but it's not ideal.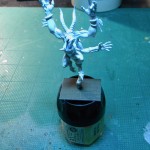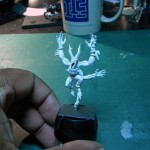 The Herald is made from the new plastic Pink Horror kit. I chose the champion and tweeked it to my liking. I added some brown apoxy putty to the bottom of his tail for the magnet. I filed it level and added the magnet. The polarity is aligned to the magnets installed in the acrylic rod of the base and the one in the disk. They should hold nicely.
The herald will be white so he stands out but I could not wash him on the disk so I set this little rig up.
Here's the resin base I'll be using for this new disk design. Again of Dragon Forge make, Temple 60x100mm this time. Damn I love his bases!!
I'll need to place another resin base order this week come to think of it…
Stay tuned!