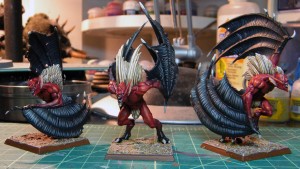 I'm not a very big fan of the current carrion models and they really don't have a place in this Arkhan host I've built so I've been hunting for some suitable replacements.
I first went with the giant bats from the VC line and they didn't quite work either. Then the book got re-released and the Vargheist kit showed up and I knew I found my substitute.
Pretty straight up paint job here. I used my airbrush to prime and get the red basecoat done along with the black transitions. I made the hair bone color to add some contrast. They use all but the metallic colors in my army scheme.
I've also taken a shine to GW's texture paint. That stuff makes basing a breeze and it looks better then the flock stuff I was using. Way more visual interest there. I'm debating on rebasing my army with this stuff. It will likely never happen…
Shawn G. (SoI)