Welcome to Part II of my custom resin base project. I've been waiting for almost 2 months for this part and I couldn't wait to get started, so here we go!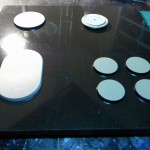 A few weeks back I picked up some granite tiles from Lowes for use in this project (and they worked perfectly). I plotted out real estate for each object to be casted on a tile.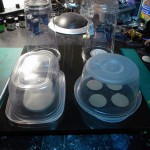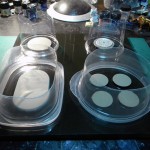 After each was roughly in place, I placed their respective "mold boxes" down so I could gauge the room each would need. My mold boxes being a pair of plastic cups and old plastic bowls. The tops of each were cut off with a X-Acto knife.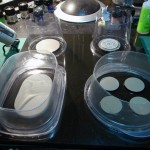 With a hot glue gun affixed each set to the tile followed by each mold box. This part was pretty annoying as I had real difficulty getting the bases to lay flush on the tile without any gaps. I anticipated this problem and tried crazy glue but it would not cure for some damn reason (I assume it needs air to cure?). Gaps will allow for rubber to get under the object and give you cleanup work after the mold has set. I only managed to get the 40mm and 60mm sets to sit flush. All the others had small gaps. I'll need to find a better solution…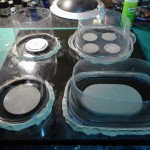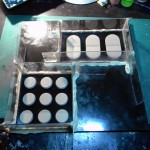 I need again sing the praises of acrylic sheet. It makes for perfect mold box crafting material, as it's cheap, easy to cut, and most importantly CLEAR. I used 3 10×8 inch sheets for the last three boxes and cut them into 2.5×10 inch strips. I glued the bases down (cursing the gaps), built/glued the boxes around them and sealed the edges with non-drying clay to prevent leaking.

I then brushed some mold release to avoid possible sticking.
Rubber pouring stage en route so stay tuned!
Shawn G.